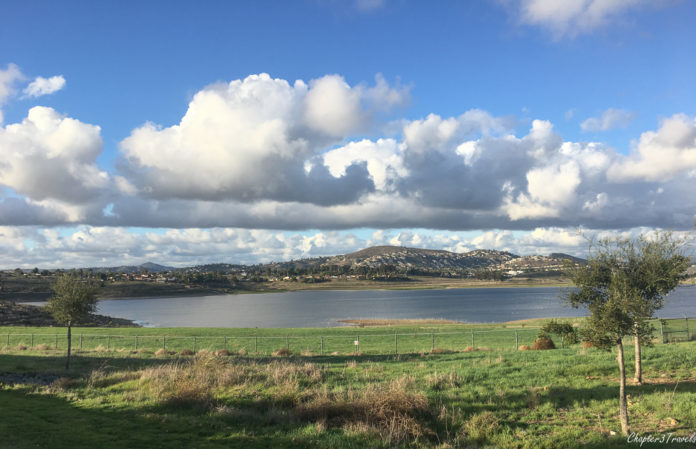 Introduction:
We loved our stay at this spacious, green, well located, county park outside San Diego.
Click here to read about our criteria for campground reviews.
The Basics:
Overall Rating: 4.4/5
Price per night / Discounts: $35 / None
Campground website: Sweetwater Summit Regional Park
Our Site #: 82
Privacy Rating (how spacious and private do the sites feel):
4/5: There are two loops here. The older south loop has more trees and therefore feels a bit more private, but the sites are smaller, W/E only, and are more irregular. The northern loop is newer and offers larger FHU sites, but the vegetation isn't quite as mature, so it feels a bit more open. Either way though, there is enough space between the sites you won't feel like you're on top of your neighbor. We were perfectly happy with the spacing here.
Location Rating (accessibility to points of interest or to major highways):
4/5: This park is located right outside San Diego, so it's considered a great spot for visiting the city. We did not go into town while we were there, but according to Google maps, it would take about 20-30 minutes to get downtown (depending on where you're headed), so not bad at all. In the meantime, there are tons of stores and all your necessities just a few miles from the park. It's really a pretty great location.
Site Quality and Big Rig Accessibility Rating (utilities and accessibility of campground hook ups):
5/5: The north loop is great for big rigs. The roads are easy to handle, the sites are spacious, and the utilities are well placed. The south loop sites vary. Some are easier to deal with than others. If you're trying to stay in those with a big rig, just make sure you read the details for each site since the sites are really inconsistent. All of our hookups worked well. We also saw that they had an easy to access dump station if you're in the south loop.
Technology and Customer Service Rating (online resources, reservations, and staff):
5/5: You can make your reservations online, which is helpful, and customer service was friendly and efficient.
Internet Availability Rating (Verizon coverage or campground wifi):
4/5: No wifi, but our hotspot worked well.
Summary:
We really liked this park. There was lots of green, the sites were well spaced, it offered full hook ups, and was well located just outside of San Diego in a nice town that offered everything we needed. We would absolutely stay here again.
Campground Photos (Click for larger image):