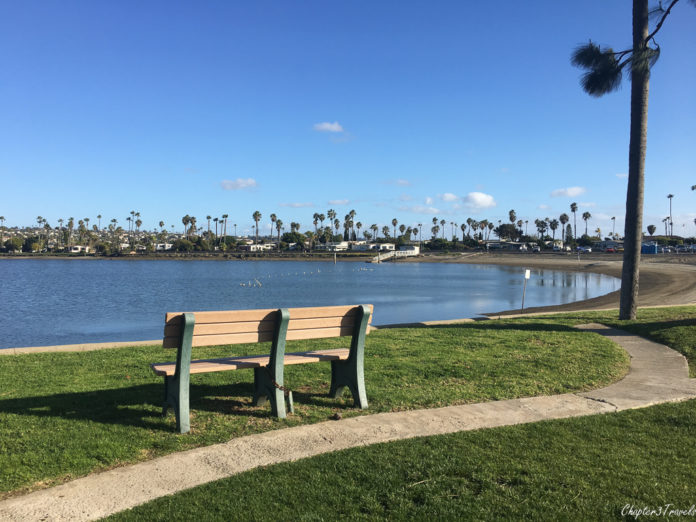 Introduction:
This campground would be completely forgettable if not for its awesome location. If you can visit for a month in their off-season (mid September through mid May), it's a great place to use as a base for exploring San Diego.
Click here to read about our criteria for campground reviews.
The Basics:
Overall Rating: 3.1/5
Price per night / Discounts: $35 / Monthly off-season (September 15 through May 14) rates are $35 per night. Non monthly off-season rates are $70 per night. In season (May 15 through September 14,) there is no monthly rate available, so one must pay the daily rate which is $90 per night (which is obscene). They do offer a Good Sam discount, but that's not worth much given the underlying price.
Campground website: Mission Bay RV Resort
Our Site #: 124
Privacy Rating (how spacious and private do the sites feel):
1/5: Lousy with a capital L. This is a true parking lot campground. Because the sites are at a right angle to the driveways, as opposed to being angled, your view out any window of your home will be of someone else's RV. Paying more for the "bay front" sites gets you no more space, and, because you must back into them, unless you have an Airstream or another RV with a big back window, you won't be able to see the water from inside anyway. Plus, the entire park is surrounded by chain link fence, so even if you do have a nice big window, you're still going to be looking through a fence to see the water. Our advice is to just get the cheapest site possible and accept that you are not going to have much of a view, or outdoor space, or privacy, during your visit.
Location Rating (accessibility to points of interest or to major highways):
5/5: As bad as the space issue is, the park's location basically makes up for it. You cannot find a better located park in San Diego. The park is situated right on the bay with fantastic walking paths by the water and within spitting distance of all that San Diego has to offer. The campground is right next to I-5, so you can be anywhere in the city within just a few minutes, and the ubiquity of Uber and Lyft make exploring the city's breweries safe and easy. We simply could not have asked for a more ideal location.
Site Quality and Big Rig Accessibility Rating (utilities and accessibility of campground hook ups):
3/5: The entire parking lot is paved and the sites are level. Water and electricity are located at the back of the sites on a small shared strip of grass, while sewer hook ups are located on the sides of the spaces. Many of the sites have a tree located at the front, which helps a bit with providing shade on the front window. Access is very much dependent on how crowded the park is. When the park is full and everyone has their tow cars parked in front of their sites, it can be more difficult to maneuver around and into the sites. It can certainly be done, but it can be a challenge depending on how big the RV is and how experienced the driver is. We didn't have any problems, but we saw some owners of super-sized fifth wheels struggling to get into their sites.
Technology and Customer Service Rating (online resources, reservations, and staff):
3/5: You have to call for a reservation, but the people at the front desk are friendly enough. We appreciated that they were willing to accept packages and would call us when they arrived. There are a LOT of rules and regulations which can become a bit tiresome. They have security officers who drive through the campground several times each day looking for troublemakers.... or anyone else who is violating some rule or another. It can be annoying at times, but, on the other hand, it doesn't hurt to have someone looking out for problems in a campground as busy as this one.
Internet Availability Rating (Verizon coverage or campground wifi):
3.5/5: Wifi was good when it worked, which wasn't all the time. We found our AT&T hotspot was very up and down as well. Not sure if the towers were overloaded in the area or what, but we definitely found our internet access to be less consistent than it has been in other places.
Summary:
We had a love/hate relationship with this campground. We loved the location and used it as our base to explore the city of San Diego, but the campsites themselves were the type we really dislike. This is not a campground where you go to relax and enjoy nature, and, if you have inconsiderate neighbors (which we, unfortunately, had), it can be downright unpleasant at times. There is minimal space between the RVs and you will have almost no privacy. On the other hand, there are nice walking paths and parks right next to the campground and you have easy access to all of the wonderful features of San Diego. If you go during the off-season (mid-September through mid-May,) the cost ($35 per night) is reasonable. The daily rates and their "in season" (mid May through mid September) rates are exorbitant and hard to justify.
Campground Photos (Click for larger image):